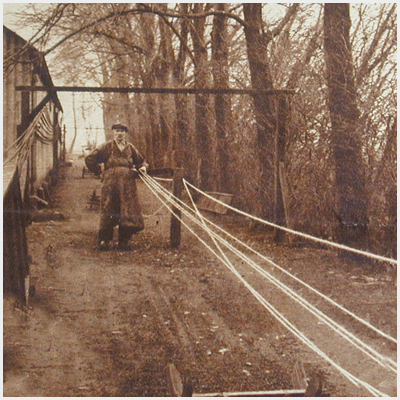 "We are proud of our rich history!"

Lankhorst Yarns was established in 1803. It was in that year that Nicolaas Jurjan Lankhorst became the owner of a small company that manufactured ropes and nets. He called it Lankhorst Touwfabrieken. Over the course of the 19th and 20th centuries, Lankhorst became a leading player in the international yarn and tape market. We are proud of this rich history. Below is a timeline of highlights from Lankhorst Yarn's history:

1803
The Lankhorst Family opened a local factory for manufacturing ropes.

1930
Lankhorst began to mass produce binder twine for use in self binding harvesters.

1960
Sisal twines became the mainstay of production within the Lankhorst spinning mills.

1964
Lankhorst began extruding polyethylene and polypropylene.

1965
The Gramaxo Family established their factory for ropes and netting.
The Lankhorst Sneek holding was founded, with four operating companies.

1983
Lankhorst Taselaar was established, distributing an entire product range for yachting.

1989
Lankhorst started a co-operation with the Portuguese rope and net maker Grupo Euronete.

1992
Lankhorst Touwfabrieken was divided into three independent operating companies:
Lankhorst Touwfabrieken – Fibre rope, twines and wire rope
Lankhorst Indutech – Industrial yarns
Lankhorst Recycling – Products made from recycled plastics
Substantial divisions of the Dutch firm Verto, which had gone into bankruptcy, were acquired.
A joint venture named LASH vof., a plastic pallet producing company, was established.
A worldwide distributing network for fishing markets was established.

1998
Merger of Lankhorst Sneek and Euronete into the Lankhorst Euronete group BV.

2000
A company, named EKON, was acquired
Eurorope Performance Rope Producers, a rope producing joint venture in Greece, was established.

2003
Her Majesty the Queen of the Netherlands granted the predicate "Royal". The full name of the company was changed to Royal Lankhorst Euronete group BV.

2007
Foundation of the fifth division Lankhorst Pure Composites
Foundation of our Representative Office in Beijing, China
Acquisition of Quintas & Quintas Offshore Mooring Systems in Portugal

2009
Start of the production of Fencing Products in Murca, Portugal

2012
Lankhorst Euronete Group BV became part of WireCo WorldGroup

Now you know a little of our history, but what can you expect when working with us? We produce a diverse range of products which includes technical yarns, tapes, fences, geotextile yarns, synthetic grass yarns and yarns for the horticulture and cable industries. High quality is always our number one priority. Each and every day, we have 800 experts on hand ready to serve our customers. It is with good reason that we are so well renowned for our flexible approach. Our website gives an overview of the possibilities.